Who we Are
Alika
MMCR was formed in November of 2003 and since our inception has found quality homes for over 3,000 cats and kittens. And we are still counting!
Mid-Michigan Cat Rescue, Inc. is a non-profit, non-state and non-federally funded, 501.C(3) volunteer based organization that depends solely on donations from the general public and fundraisers in the Mid-Michigan area.
Philosophy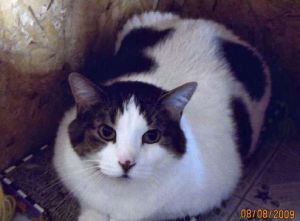 Angel "Couch Potato"
We are dedicated to finding lifetime homes for abused, abandoned, neglected or owner surrendered cats and kittens. All rescued cats or kittens are temporarily fostered in our homes (not a shelter) until a qualified, responsible applicant can be matched to each individual cat and permanently adopted. We maintain the highest standards of comprehensive veterinary care which, includes but is not limited to: sterilizing all cats, immunizations, FIV/FeLV testing and parasite control.
We are a non-euthanasia organization (except when injury, disease or temperament makes other options impossible) and do not sell to research facilities.
MMCR maintains a feral colony of over 60 cats and we practice trap, neuter and release whenever possible. MMCR also aids the general public with low cost spay and neuter. We assist in public education about the importance of sterilization to reduce over-population and the humane treatment of domestic animals.
We accept personal, lifetime responsibility for any animal that has been in our care and make every attempt to adopt healthy, well socialized and mentally sound cats and kittens. We keep the highest standards of professionalism and excellence in care including love, tenderness, dignity and compassion for our foster cats. We are a dedicated and responsible group of volunteers with many years of in home foster care experience that are motivated and focused on cat and kitten rescue.
For More Information:
Email us at sarahvicary@yahoo.com
Call us at 517-622-4653
Visit our websites at www.mmcr.petfinder.com or www.mid-michigancatrescue.com
Mail us at Mid-Michigan Cat Rescue, 1117 Tulip St. Grand Ledge, MI 48837