Be a part of the Miracle of Compassion!
You can Save a Life today!
Our adoption process is very quick and easy! Just complete an adoption application [
PDF
|
Word
] and e-mail it to sarahvicary@yahoo.com or sarah@mid-michigancatrescue.com
First Steps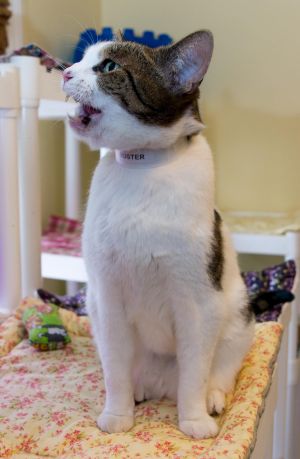 Buster "Curious and Spunky"
We are always happy to suggest cats that will fit into your family and with your other pets! After we receive your application, a volunteer will contact you to arrange a meeting at one of our adoption events, event locations and times are posted on the website.
At an adoption event you will complete a quick and easy adoption contract. Usually the adoption process takes about 30 minutes.
Every adoption comes with a free tag, collar, medical information, useful tips about your new family member, and a goodie bag!
$100 for kittens and adult cats (read some benefits of adopting an older cat)
We give a discount for same person, same day double adoptions, the second cat is only $50
Senior cat (7+ years old) adoptions are $50
We offer adoptions for $75 to senior citizens (65 yrs+).
We have the most inexpensive and competitive adoption fees in the Lansing area to help make adopting a cat more affordable. For more information concerning adoption or questions, email Sarah or call 517-622-4653.
A note on De-clawing:
We do not believe in de-clawing except in extreme cases. If you want a de-clawed cat, we suggest you look at our cats who were already de-clawed before they came to rescue.
Find a Cat!
Browse
a searchable collection of our cats and find your purrfect companion today!