Love Shopping ?
Visit our Shopping & Ways To Help Page and shop your heart out while benefitting Charlotte Cocker Rescue!

"Visit Our Mall" has hundreds of nationally known stores and retailers for you to shop in.
Food Lion, the "IGive Shopping Mall" & "Helping Udders" are just a few of the hundreds of stores and links where shopping there benefits Charlotte Cocker Rescue. Please go to our Shopping & Ways to Help Page to begin shopping!


Charlotte Cocker Rescue's Upcoming Events

Do not miss any of our fund raising events this month! Please go to our Upcoming Events Page for all the latest events. The Cockers cannot wait to meet their future for-ever family!


Flash - A Beautiful Buff Colored Male Cocker !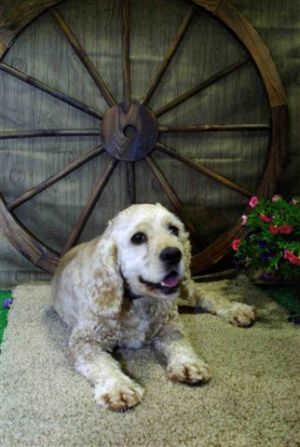 Flash is an affectionate 4 year old boy who loves people and likes to play with soft plush toys. CCR believes Flash should not be in a home with small children. If you are looking for someone to go on your latest adventure with Flash is your man! He loves to ride in the car.
If you are interested in adopting or fostering him, please complete an application and indicate that you are interested in Flash.


View our youtube video of our JJ!

Click here to watch!
JJ is an adorable cocker spaniel that we discovered, as my husband built a swingset , loves to slide. We foster for Charlotte Cocker Rescue and have only had him at our house 24 hours and have been amazed at how fast he is learning manners and tricks as seen in the video. He runs up the slide and loves to turn around and slide down to only repeat it again. He's an active fellow that loves his people and other dogs. Please share this video to spread awareness of our work as well as the many animals in need in shelters everywhere. The economy has been hard on our 4 legged friends as well as they are left homeless, too. Charlotte Cocker Rescue, where great dogs find great homes


n
Charlotte Cocker Rescue would like to wish all of you the Happiest of Holidays!

Our success is due in large part to the support we receive from our amazing volunteers, sponsors, fosters and of course, the people that adopted from our Rescue. We would like to thank all of our supporters, donors, fosters, adopters and volunteers.

We are so proud of our commitment to rescue as many dogs as possible. This would not be possible without the service our volunteers, fosters and donors provide and Charlotte Cocker Rescue is indebted to them for helping us carry out this mission. We depend on people of all ages, skill sets and backgrounds for help.

Become a Charlotte Cocker Volunteer or Foster. Please go to our Volunteer or Foster Page for more information or to fill out an application.






Taylor - A Beautiful Male Cocker !





Taylor is a beautiful 5 yr old reddish blond cocker with a natural tail. With his beautiful tail he looks like a tiny golden retriever. He is absolutely darling!! Taylor is just as sweet as he is cute! Since coming into rescue Taylor has blossomed into a great cocker who would love a home of his own. Taylor loves other dogs and is very friendly. Taylor would make a wonderful addition for the right family. Do you think you could be that family?
If you are interested in adopting or fostering him, please complete an application and indicate that you are interested in Taylor







Sebastion - A Wonderful Male Cocker !





Sebastion is a beautiful 4 year old black cocker spaniel. Sebastion is a real lover boy. He loves his people and is dog friendly. Sebastian loves to play with balls and soft toys! He is looking for his for-ever home and would love to join you as a member of your family
If you are interested in adopting or fostering him, please complete an application and indicate that you are interested in Sebastion.








Buffy - A Beautiful Sweet Girl Cocker !





Buffy is a 3 year old red and white partial colored female. Buffy is a playfull, happy girl dog that has had a difficult past and needs a loving family that is willing to give her the love and time she needs. CCR strongly recommends obedience training for Buffy and her new family to help to build a strong bond. CCR does not recommend a home with small children for Buffy.
If you would be interested in adopting or fostering this wonderful girl, please complete an application and indicate that you are interested in Buffy.
Please consider fostering Buffy if you cannot adopt, as she is badly in need of a wonderful family to give her the love she so truly deserves.






Rusty - A Wonderfully Happy Male Cocker !






Rusty is an adorable 5 year old reddish male cocker. Rusty loves to play with other dogs but he would be just as happy being an only dog. He also likes to play ball and to have his tummy rubbed. CCR does not recommended a home with small children for Rusty. He would be fine in a home with older children.
If you are interersted in adopting or fostering him, please complete an application and indicate that you are interested in Rusty.



Charlotte Cocker Rescue Adopters and Supporters ! It's Happening Again!
Vote for Charlotte Cocker Rescue in Please click on the link below to go directly to the voting page. Type in Charlotte Cocker Rescue and enter NC in the State selection box and Charlotte Cocker Rescue of NC will be displayed. All you have to do is vote.
You can VOTE EVERY DAY! Get your friends and family to vote as well. To vote for Charlotte Cocker Rescue
click here

Important Information Regarding Pet Insurance for your Pet

PetFirst Healthcare have partnered with Petfinder to bring you affordable insurance for your pet. Help your adopted pets by obtaining health insurance that is actually affordable and help Charlotte Cocker Rescue have a chance at a $250.00 donation. Every time a new adopter obtains heath insurance thru PetFirst, our rescue will included in Petfinder's random drawing beginning October 14th.
Your pets adopted from Charlotte Cocker Rescue are eligible for this PetFirst Heathcare insurance. For more information or to easily activate a plan click here