INTERVIEW - PART TWO!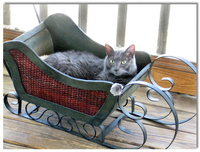 Here is Part Two of the interview with Silver Rescue's founder and CEO. Last month, Karina shared ways readers can help the animals that come through SR's doors. She is also looking for a Newsletter Editor. If you have an interest in making a big difference, contact SilverRescue@gmail.com.
JM: Do you have any advice for those who adopt a cat or dog through Silver Rescue?
SR: When I do adoptions, I go over all the introduction and training tips as well as how to teach children what not to do around the new animal. One of my guarantees with an adoption is that I am always there for the life of the animal if they need help or advice. There are also people who write to the rescue for advice on particular issues. I'll share some of these questions and answers in upcoming issues of the newsletter.
When people rescue a dog and all of a sudden they run into an issue they don't know how to handle, they are ready to give the dog up. The problem with that is that adoptions are already slow in this economy. Here in Nashville, we had a huge flood in May. Thousands of animals were lost, dumped or abandoned. Rescues are full and fuller. The same goes for me. It is a stressful situation, so because I can't take in any more, I try to help adoptive "pet parents" with behavior issues, training, food, low cost vet clinincs, and anything I can do, education-wise, that helps them keep the animal. It is very difficult because most people just want you to take their animal and don't really want to learn anything when just a little more effort will reward them with a wonderful pet companion. Oftentimes, they decide they can't afford the animal, but even small changes in the family budget will leave enough to pay for a pet's needs.
JM: What should someone do if he or she has a pet but can no longer take proper care of it?
SR: Reach out to rescue organizations for help. Be prepared, in case a rescue or foster home cannot be found right away. As mentioned above, the economy is a huge issue locally and nationally. And then there are the natural disasters like our May flood. If rescues or fosters can't be found, ask if there are organizations that can help with food. We have one in Nashville. The state of Georgia has one near Atlanta, I believe. Sometimes rescuers will pull together and collect money for food in an emergency.
Sometimes someone might be able to get monetary help for vetting or at least low cost clinics. This is a very difficult situation because not only are the rescues in dire straights but the private person is, too. There are a lot of smaller rescue operators like me. Most operate on a shoe string budget, taking money out of their own salary. Only large organizations like Humane Associations, the ASPCA, Northshore Animal League, etc. can do better than we can, but even they don't take in every animal out there. I've written to every one of those organizations as well as smaller ones to see if they can take in an animal I needed to place. I've never been successful at that. Rescue pleas go out daily by the thousands. I personally get 2 to 300 a day. More usually. The need is great. That's why everyone who reads this newsletter is important. This is a job that takes all of us, working together.
JM: And it is a very difficult job, one that is heart-wrenching at times. How did you become involved with rescue work?
SR: I guess it just came naturally. I first rescued Silver, the cat for whom this rescue is named, whose hind legs were broken. Then I rescued his sister so he would not be alone. And that was supposed to be it. Then their momma came; that was Midnight, who was with me until she passed away last week. She was just supposed to stay for the weekend at first because she kept escaping and had already missed a couple of spay appointments because of that. So I helped out. I loved that cat, and when I felt her babies move, I asked if I could keep her because we were told she might die during the operation. She gave me four more babies. And that family of seven was supposed to be it.
But I fed feral cats, too. And sooner or later homeless cats came around that weren't feral, so I took them in out of the elements and away from speeding cars and diseases from other unfortunate, street-roaming cats, not to speak of hungry abandoned dogs. Eventually, I saw I couldn't keep every cat and began to learn to do adoptions. When Alex, my first dog came around, I soon learned about the plight of pit bull dogs and began to get into dog rescue. Kitties and pitties are my passion but I will rescue what needs to be rescued. I realized early on that I had to do this right, so my rescue efforts evolved into the nonprofit organization you read about today fairly quickly.