New Year, New Pet, New You!
January, 2011
In this issue: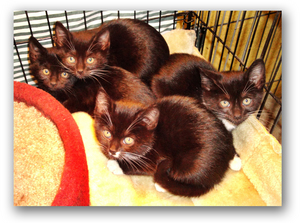 Lucky Kittens
By Susan Heard
I gently open the door and peak into the quiet bedroom. From the daybed, ten round gold eyes peer back. Slowly, the pile of soft, warm fur stirs to life, as a solid black kitten and her black and white "tuxedo" siblings yawn and stretch and ready themselves for another day of play. Outside today is cold and icy but the kittens are safe and well-fed and unknowing about the dangerous world. These are my foster kittens. The day we found them was much different.
Last fall, while having my car serviced, I spotted a "mom" cat– a pretty young tuxedo cat with white whiskers - near some derelict apartments. She seemed to be following a passing woman, so I asked about her, offering help with having her spayed. The woman and several neighbors who chimed in said she is a neighborhood cat who "has kittens every three months or so." Like so many thoughtless humans, they feed her but won't take responsibility for her. They refused to help me capture her, so I resolved to do it myself in hopes of preventing the birth of another hapless litter.
Too late! I had asked Silver Rescue for advice, so Karina and I went cruising the area one day looking for "Momcat." Not only did we see her, we also saw several tiny kittens darting in and out of a hole in the wall of a storage building. It took some scrambling to scoop up the kittens, each of which was no bigger than our hand. They were already little spitfires, arching and hissing like grown up cats. Karina worked with them until they began to accept and enjoy human contact, rewarding her with purrs. I brought them home following their neutering surgery and have loved watching their individual personalities emerge. I will be sorry to see Amigo (the only boy), Wendy, Beauty, Lila and Chiquita go but love the thought of each of these sweet babies finding a forever home. If you need a kitten or just want to see pictures of Momcat's kittens, click link to the website here.
***
Visit our home page:
http://www.petfinder.com/shelters/TN303.html
***
Blue Gets a New Home!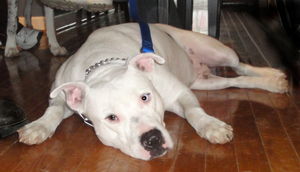 Look at this happy boy!
You remember Pretty Boy Blue? Don't you?
When I walked in the door, a beautiful, wiggly, happy boy greeted me with a smile as wide as a boat on his face. He seemed to remember me, though that could have been wishful thinking since it had been a year and a half since I last saw him. This was his adoption day.
His new family, complete with 2 humans and 3 dogs, had driven all the way from Texas to Tennessee to claim this boy as their new family member.
In July of 2009 Blue was found running for his life. He had been fought and shot. He was a mess. His ears ripped, bit wounds all over his head and body. A bullet still lodged in his head. Bullet holes through his legs. The terror he had been through should have left him mistrusting of humans. Instead he wagged his tail, no, his whole body in gratefulness for the love his caretakers gave him.
His best friend for the last 1½ years was his trainer and mentor Joe Simmons. Joe saw him through his surgeries, heart-worm treatment, obedience training and socialization. With Joe he learned to live in a real home, a first I'm pretty sure, as he was described as a bull in a china shop in the beginning. He learned what real love feels like. And with all that hard work Blue has become an ambassador for the bully breed.
It is sad to have to say that the worst day of his life was also the best day of his life. No animal should ever have to suffer like Blue did. However, had he not been abused and
fought and ultimately shot, he would never have landed in the loving arms of his rescuer and embarked on a life full of promise.
We are happy for you, young man! You deserve it.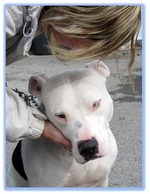 ***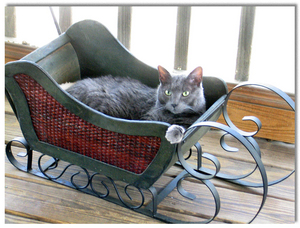 Silver, above, inspired the name of our rescue and, along with mom Midnight and siblings, touched human hearts and brought healing to cats and dogs that continue to find shelter at Silver Rescue.
What It Takes (Part One)
By Jan McDaniel
(Watch for Part Two of this interview in Silver Rescue's upcoming
February
newsletter, where Karina talks about adoptions, how the economy impacts individual pet owners and rescue organizations, and the personal story of how she became involved with rescue work.)
The new year is an exciting time. We all get a fresh beginning, "do-overs" for things we didn't get done last year, and chances to do what we really want to do. It's a time for dreaming, for planning, and for putting action underneath those dreams. At Silver Rescue, we hope you will include us in what you are going to accomplish in 2011 by giving a bright new life to a dog or cat in our care.
Have you ever wanted to help an animal or make a big difference in someone's life? "Wait," you say, "I'm just one person. How can I help?" Glad you asked. I wondered the same thing, so I asked the founder and CEO of Silver Rescue if I could interview her. Here's Part One of that interview.
JM: What are you trying to accomplish with Silver Rescue?
SR: I want to be able to find homes for cats and dogs and to help Good Samaritans place their rescued dogs and cats. It's as simple as that. To do this - and to give sanctuary to the old and unwanted animals - I have to raise funding for animals in desperate need of medical care. Food, shelter, care, medical intervention...these are the basics but much more is involved in running a successful nonprofit rescue organization.
JM: Tell us more about what goes on behind the scenes. How can other people help?
SR: I could use a bookkeeper. Not everything happens in direct contact with the animals themselves though that is a gigantic part of the work. I could use someone to plan and handle fundraisers. As money comes in for materials, I could use volunteers to help with repairs or building structures and purchasing accessories for the rescue.
JM: Silver Rescue is located in Nashville, Tennessee. I understand that you need local volunteers, but what can readers of this newsletter do if they do not live near that area?
SR:
Wherever you live, there are many ways you can help, and Silver Rescue really needs you. You can start by forwarding this newsletter to your friends and professional contacts. You can plan a fundraiser in your local area (yard or bake sale, car wash, pet parade and so on) to raise money for a donation. You can take part in our new programs by purchasing an advertisement in the newsletter or by setting up an automatic monthly donation. You can adopt an animal (see available animals
here
). If you cannot adopt, you can still sponsor a dog or cat with one-time, monthly, or yearly sponsorships.
JM: How can someone sponsor an animal? How does that work?
SR:
Each animal we help is special, and there are several ways to connect with one you read about in our newsletter or see on our web site through our
Silver's Angels Program
. You can make a donation through PayPal or snail mail
to help us cover the cost of care for the cat or dog who touches your heart. There are also options to sponsor an animal with a monthly donation amount. It's easy to use PayPal.
(See our link to Pay Pal at the end of this email.)
The Pet JetSetter
This high quality bag has a unique design with six roomy pockets on the OUTSIDE and plenty of room inside. It comes with water and food bowls, and the detachable shoulder strap doubles as leash. The bag can be personalized, too.
Bonnie, a Pet JetSetter owner in Georgia, said this bag is durable. Her favorite part is that now she can carry all of the "stuff" she needs for her pet in one place, ready to use. "Going on vacation will be a lot easier now that I'm organized," she said, "and I really like the dog-friendly water bottle added to my order."
Note to our readers: When you purchase a Pet JetSetter, put code word Silver in the "instructions to merchants" line in Pay Pal.
See more info and photos on the company web site here:
Watch for tips on traveling with your pet in an upcoming issue.
***
Please Support Silver's Angels Program
Donations save lives. They help us make a difference. All donations go to provide food, medical care, and placement of sheltered dogs in need. Our volunteer rescue and rehabilitation efforts are funded through adoption donations and contributions. We receive no public funding. Silver Rescue is a 501(c)(3) non-profit organization. Donations are deductible for federal income tax.
Make a donation through PayPal:
Make a donation through Snail Mail:
Silver Rescue
P.O. Box 111888
Nashville, TN 37222
Sponsor Blue with a monthly donation through PayPal: