Year End 2010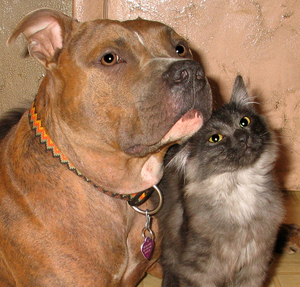 Duke and Dutches wish you a Very Merry Christmas and a blessed New Year! May all God's creatures large and small get the love they finally deserve.
http://www.petfinder.com/shelters/TN303.html
When You Need Them
by Jan McDaniel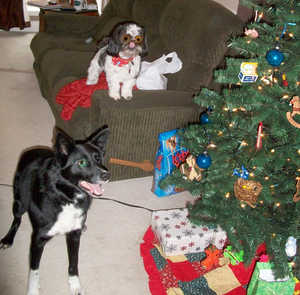 Panda came into our family a few months after my husband died.
Now - three years and two surgeries later - he has proven we needed him all along.
A Shi-tzu, whose entire 11 pounds is devoted to giving kisses, running around the couch, and napping, he has the heart of a lion in his small body, albeit delicate eyes (he ran into a bush and almost lost his eye; he now has Glaucoma). He knows how and when to comfort us, placing a paw just so on my arm and gazing with compassion into my eyes or snuggling beside my daughter as she reads. In fact, we are the ones without the communication skills. Panda "speaks" but we fail to understand his exact words. He does say "mama" plainly, and we can figure out the rest because he is so patient with us.
Austin, on the other hand, is a lap dog who happens to be blessed with a 35-pound body that often gets in his way. He has been through it all with our family...the good days after my daughter brought him home from her first job in high school at a vet's office...my husband's illness...several moves...and the incomprehensible end of much love and petting that he regularly received from Ron. His favorite activities are chasing a tennis ball, walking on a leash, getting a bath (believe it or not), and lying by the hammock.
Austin, who was given up for adoption at just a few weeks old, is a light to everyone who knows him and is always willing to give you his entire attention plus all the border collie mix hair you can put in a sack.
These animals have blessed our lives everyday and have played a huge part in our healing, especially my younger daughter's. They take our minds to new places and bring them back to comforting and familiar ones with every walk, lurch, cuddle, and bark.
Animal companions help people who are grieving, but they also enrich our lives in many other ways. If you think you would like to add a dog or cat to your household, there are several important things to think about first. Some of the most wonderful pets around have come from animal rescue organizations or local animal shelters, but there are many things to consider before you take such a step.
One thing you can do is research to find a pet that is a good match for your lifestyle and your own personality. Consider living arrangements and the needs of others in your home (especially children) and decide if you are up to the task of housebreaking a puppy or if you would prefer a more mature dog. Many good sites online can give you an idea of what it would be like to own a dog, even a specific breed, or you may find another kind of animal suits you best. Cats, for example, are independent and adapt well to many kinds of living spaces. Look for recommendations and estimates on topics like exercise requirements, size, susceptibility to disease, and ongoing costs such as veterinarian bills, food, boarding/grooming, and other expenses. Time spent before you welcome a new family member will reward you with a pet that is the perfect fit for you!
Even if you cannot adopt a pet, you can find joy in helping by making a donation or volunteering your time. Many local shelters welcome volunteers who can give an hour or two each week to walk, feed, and help socialize the animals they care for.
Please do not adopt a pet if you are not able to provide proper housing, time, financial support, and adequate care at this time. Many times, people get carried away with the holiday season and later find that the sweet bundle they brought home requires much more commitment than they thought. Don't let your pet become a post-holiday nightmare or throw-away. Also think about having your pet spayed or neutered.
If you're ready and want to help an animal who needs a home, just remember, the one who receives the most help from the arrangement probably will be you!
More from Jan...
The Pet JetSetter

How much money and time does it take to save a life? Without spending anything extra and in very little time, you can do what I did this holiday season. Members of my family like to travel, and this product makes it much easier to take our dog along instead of boarding him.
The Pet JetSetter is a high quality organizer bag just right for all those things that pooches need and will please anyone on your gift-giving list. With six pockets on the OUTSIDE - leaving plenty of room inside for a cuddly blanket and a toy or two - it comes with its own water and food bowls. The detachable shoulder strap doubles as leash, and the bag can be personalized. Of sturdy construction, I expect this bag to last for the long haul...no matter what we throw at it.
And that saving a life part? The company also donates 7% of each sale that comes in with the code word (Silver)to Silver Rescue! How could I resist that? So, when you order or share this information (I hope you will), use the code word Silver in the "instructions to merchants" line in Pay Pal.
Tell your friends, and let them help, too! http://www.petfinder.com/shelters/TN303.html or www.PetJetsetter.com. Have fun, be organized...and help save a life!
***
The Dog
When you open your eyes, I open mine.
It doesn't matter the weather, the day or the time.
I watch over you to see what you need
And then do my best; I make it my creed
To see that you're sheltered, watered and fed
All through the day and, just before bed,
I give out the kisses, and you pat my head.
When your eyes fill with tears, I show my concern.
You're tender and sensitive lately, I've learned.
I move to your side; I listen quite well
As you unload the sorrows you're longing to tell.
You're never a bother; don't think that you are
Because I just love you, and nothing's too hard.
When you laugh, I will know and be ready to play
Because, as with all things, you change day by day.
You talk, and I listen; you dance, and I bark.
We sit down together, away from the dark.
The one thing I promise, the thing I know best
Is the sharing of secrets you keep from the rest.
When you open your eyes, I open mine.
It doesn't matter the weather, the day or the time.
I watch over you to see what you need
And then do my best; I make it my creed
To see that you're sheltered, watered and fed
All through the day and, just before bed,
I give out the kisses, and you pat my head.
-contributed
There are just a few days left in 2010. Would you consider Silver Rescue as your charity for the year? All donations go directly to Silver Rescue to help rescue cats and dogs; to heal their broken minds and bodies; to socialise them and make them good canine citizens; to foster them and to find them their forever wonderful new families where they will never have to suffer again.
Please help us help them.
Thank you! We cannot do it without you.
Merry Christmas and may your New Year be full of Love, Kitty Purrs and Doggie Slobbers!
~ Karina and the Gang