Sponsor a Bichon
As part of our fundraising, Tidewater Bichon Frise Rescue is offering the opportunity to sponsor a specific dog in our rescue program. For $25, sponsors get their name listed on this website, a biography and "autographed", color picture of "their dog" along with a sponsorship certificate mailed to them. Or you can choose to sponsor "your" dog all year long! Become a Bichon Buddy for a $10 a month donation and you will also receive an "I Love My Bichon" automobile magnet and updates concerning "your" dog.

Sponsor A Bichon Today

Consider Sponsoring a dog today or giving a gift of love to someone YOU love by sponsoring a bichon in their name.

If you'd like to sponsor a foster dog, simply click the donation button below the picture of the dog you wish to sponsor and pay with Paypal. Or you can mail a check or money order to us at: Tidewater Bichon Frise Rescue, PO Box 8084, Suffolk,VA 23438 (include a note stating which foster dog you want to sponsor).
Sonny and Beau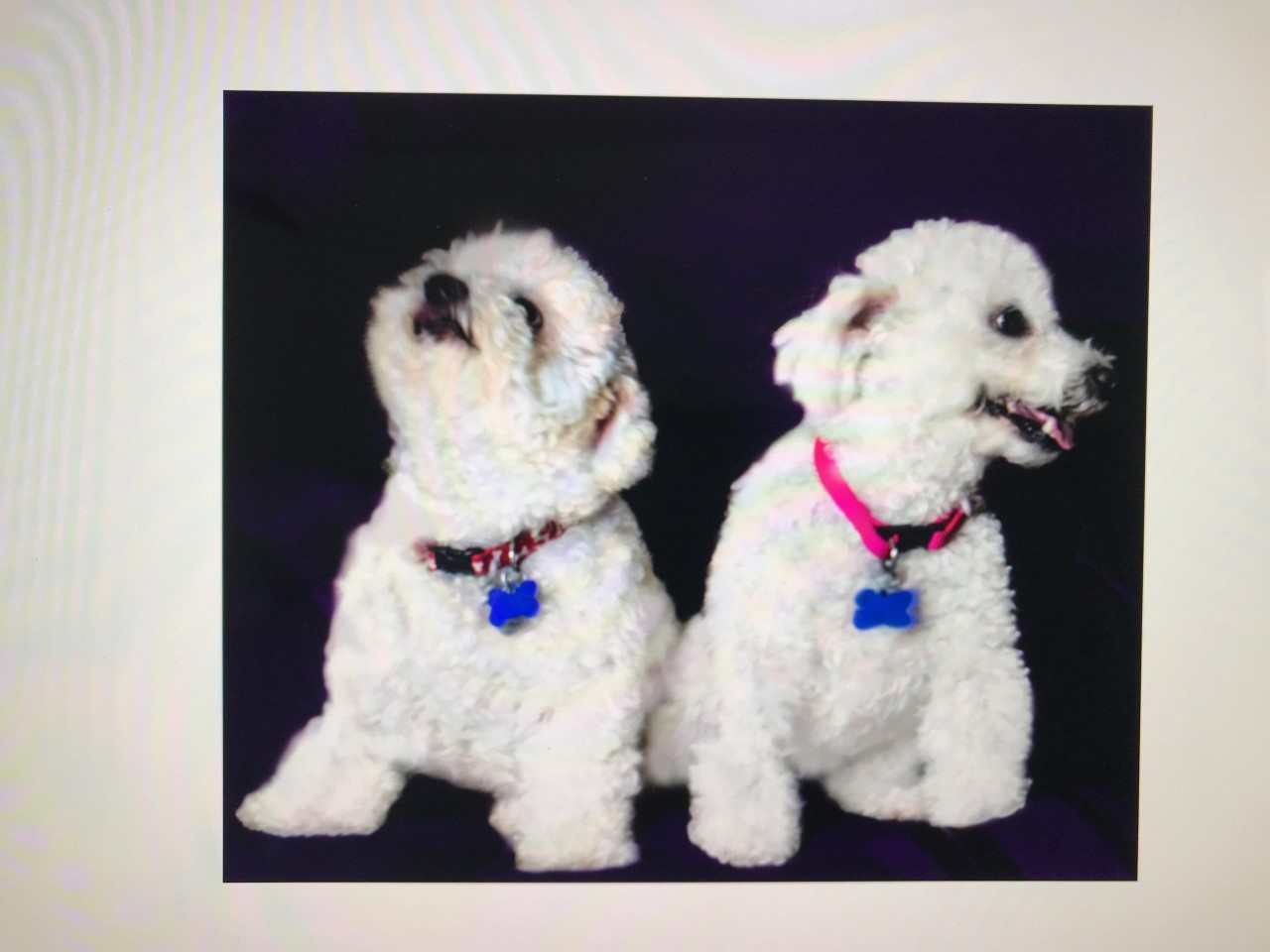 $25 One Time Sponsor
Monthly Bichon Buddy
17 year old Sonny and his son, 13 year old Beau are part of TBFR's Hospice Program. Both came to rescue when their elderly owner went to a nursing home. They had not seen a veterinarian in years and were in terrible shape. Sadly, it was discovered that both have cancer. Both boys think the accommodations and food are the best, the other residents are quite nice and since they both have hip dysplasia they appreciate the doggie door and the ramps to the back yard. Sonny and Beau are the sweetest and nicest dogs! They are receiving love, attention and medical care here at White Dog Cottage. With your help, TBFR is determined to make the rest of their lives, the best of their lives.
Sponsored by:
Golde Morenfeld, Richmond, VA
Catherine Combs, Rocky Mount, NC
Mary Ristow, Lynn, MA
Edward Marut, Winnetka, IL
---
Monty
$25 One Time Sponsor
Monthly Bichon Buddy
Monty was rescued from a Puppy Mill Bust. He is extremely shy and doesn't understand or relate to things that most dogs and their owners take for granted. He ignores other dogs; he doesn't know what toys are; he is not food motivated and he is afraid of most people. He does like to sleep in bed with his foster mom and follows her everywhere. With much love, time and patience we hope that this very sweet boy will start to relax and enjoy his new life.
Sponsored by:
Dave Osborne, Leesburg, FL
Kimberly Lackey, Woodbridge, VA
Mary Jean MacDonald, Toano, VA
Barbara Giegerich, Richmond, VA
Tiffany Jordan, Gastonia, NC
Wendy Kaufman, Fairfax, VA
---
Sean
$25 One Time Sponsor
$10/Month Bichon Buddy
Sean has spent almost his entire life in an Elizabethan collar in order to keep him from inflicting wounds on himself from biting, licking and scratching. Sean is now seeing a veterinary dermatologist which is expensive but necessary to his health and quality of life. Until his allergies can be identified and either eliminated or controlled, Sean will stay here at White Dog Cottage.
Sponsored by:
Mary Jean MacDonald, Toano, VA
Amy Montgomery, Denver, NC
Zach Darby, Yorktown, VA
Pam Furr, Richmond, VA
Lorean Stauty, Suffolk, VA
Eleanora McClenney, Virginia Beach, VA
Barbara Wilbur, Bothell, WA
Donna Darby, Yorktown, VA
Libby Hume, Machipongo, VA
---
Rosie
$25 One Time Sponsor
$10/Month Bichon Buddy
When seven month old Rosie came to rescue she weighed less than 5 lbs. -- half of what she should have weighed! Purchased at a local pet store by pathetic excuses for human beings, she lived outside and was being starved. Now at age two, she is extremely distrustful to most people and is aggressive to other dogs. She feels safe and is happy in rescue. She will always have a home at White Dog Cottage.
Sponsored by:
Janice Gentilini Milwaukee, WI
Karen Burrell Norfolk, VA
Betsy and John Dipilato, Virginia Beach, VA
Barbara Hollis Alexandria, VA
Ed Marut Winnetka, IL
Primula Nevel Cave Creek, AZ
Donna Darby, Yorktown, VA
Trudy Alberts, Powhatan, VA
Ann Markley Spivak, Grosse Pointe, MI
Rose Cipriano, Lewes, DE
Amie Bender, Richmond, VA
Jim and Jane Kay, Franklin, VA
Eleonora McClenney, Virginia Beach, VA
Carol Adamson, Raleigh, NC
Gloria Kluever, Raligh, NC
Gracie Sherman, Nashville, TN
---